The Derbyshire scheme went live in 2007. It covers four local authorities and handles more than 32,000 bids a year from more than 10,000 housing applicants. The scheme works on a fortnightly bid cycle and carries all the available properties for letting on its website.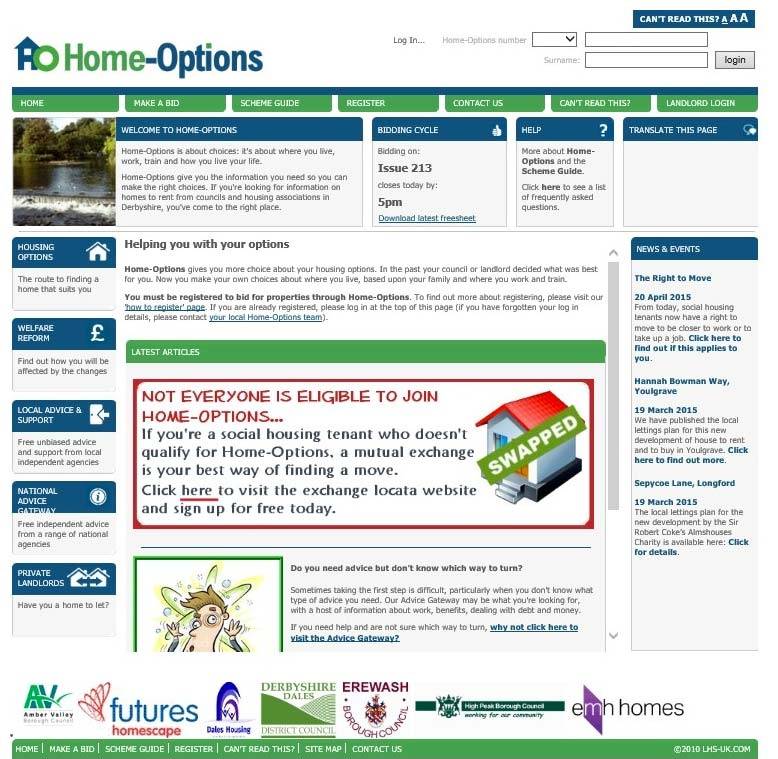 In the last year Derbyshire Home-Options carried more than 3,400 adverts leading to some 3,500 completed lets. It also offers its applicants the opportunity to swap their properties using Exchange Locata.
The Derbyshire scheme deployed the improved online housing application form in May 2013, replacing the original online application form that had been in place since 2007.
"We were over-reliant on paper application forms, with only 45% of applications being submitted online," commented the Home-Options Co-ordinator. "Paper forms were expensive to print and expensive to post, and some partners received less than one third of the forms they had sent out to potential applicants.  In addition, applicants were never sure which parts of the form to complete and staff were spending a lot of time chasing up applicants for missing or incomplete information."

"Working with Locata we developed our new 'smart' form and after some robust testing, started using it in May 2013. The form uses mandatory fields and conditional questions to ensure that the required information is provided before the form can be submitted. The form also prevents ineligible applicants applying (such as people without a connection to the area), reducing the time taken to process unsuccessful applications."

"The online application form is our default option and applicants are encouraged to use it wherever possible (we've now got the time to take applications over the phone for those who can't, thanks to the time saved with the online form).  Online applications have increased to 90% of all applications and the quality of the information received from applicants is much improved, saving significant staff time."
Having recently gone through a procurement exercise which resulted in re-appointing Locata, the partnership will shortly be deploying the housing options module as part of range of additional modules. The housing options module will advise applicants about their most appropriate housing options at the point they apply and provide applicants with an action plan to follow. The Home-Options Coordinator said, "We're keen to channel shift as much as possible so that staff have time to support those applicants that require more help. Using Locata has enabled us to do this and to make significant savings in terms of time and money."
Contact: Phil Campbell