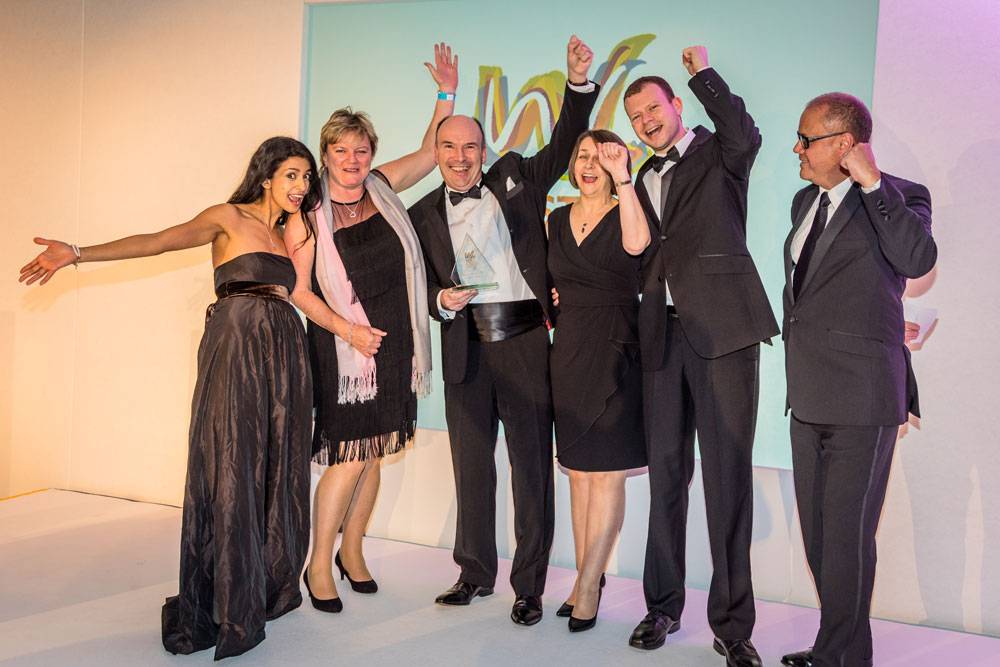 Locata team members Janette Boyle, Alan White, Sarah Sidhu and Iain Silverton receive the Productivity and Innovation in Business Award from award's host Konnie Huq, the former Blue Peter presenter.
Photo: Stephen Johnson Photography
---
Locata Housing Services has won the Productivity and Innovation in Business Award at the West London Business Awards 2017.
The Award was presented at a gala dinner at Wembley Stadium on February 2, 2017.
This is the third year in a row that Locata has won an award at the West London Business Awards, having been presented with the Technology Business Award of the Year at the previous two ceremonies.
The high profile judging panel included Nghia Tran, Department for International Trade, Chris Maw, Senior Partner at PwC, Mike Langan (Hillingdon), Mark Cookson (Westfield London) and Andrew Ward (Brunel University).
The judges said Locata stood out for the way customers and suppliers are integrated at the heart of our innovative developments. They also said it was "great to see" the work we have done on mobile apps.
The Locata entry focused on the work we did in 2016 re-engineering our product set.
Following feedback that many customers were becoming increasingly confused by the range and variety of products and services on offer in the market, we bundled our existing 45 systems into four coherent product sets.
Locata Pro – the core housing options system
Locata Pro Modules
Locata Pro Enhancements
Locata Pro Services
A series of modules and enhancements can now be bolted on to the core system in any order or configuration to suit each customer. This makes it relatively simple and cheap for each if our customers to build an increasingly sophisticated and completely bespoke housing system to suit its own specific local needs.
The entry also discussed the series of mobile apps we have built that social housing applicants can download for free. The 21 councils currently offering our mobile app report the vast majority of bids for housing are now received via that channel.
"We are absolutely delighted to have the quality of our work acknowledged once again by independent experts," said Peter Riley, Managing Director of Locata. "We are a small company that punches well above its weight delivering products and services to our partner schemes that help make genuine improvements in the lives of social housing tenants and applicants across the UK."
The full list of winners and further details about the West London Business Awards can be downloaded here.