Manchester has successfully handled more than 75,000 bids for 1,400 advertised properties in its first three months of operation.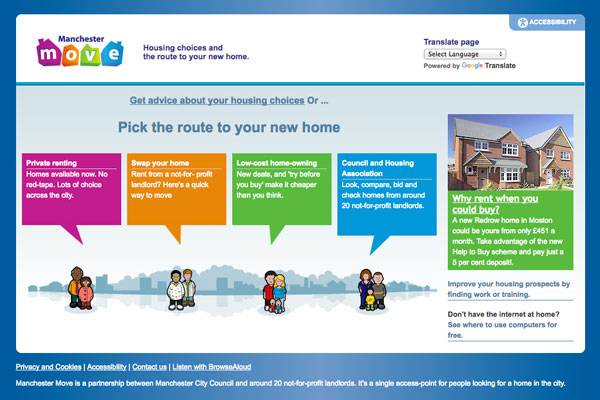 LHS built the Manchester Move website that launched in February and replaced the previous Homefinder system in the city.
Two years in development, the site uniquely uses a simple traffic light system to give customers an indication of the likelihood of successfully bidding on a particular home.
Properties are coded red, amber and green for each applicant – green meaning that the customer has a good chance of being considered for that specific property.  This helps customers identify homes they want to watch for in that bidding cycle so that they can make best use of their three bids.
The Manchester Move website advertises ready-to-rent homes for 19 not-for-profit landlords and covers seven different policies across the partners. The scheme uses on-line registration and change of circumstances forms.
It is planned that the site will soon also include advertisements for privately-rented homes as well as deeper information about wider housing options, such as low-cost home ownership and home exchanges.
 "Manchester Move revolutionises the way people can find a new home and streamlines the process between bidding for a property and receiving the keys to the front door", commented Councillor Jim Battle, Deputy Leader of Manchester City Council.  "The website allows residents total control over their housing application and helps reduce the time people wait for the right property."
Find out more at this link or contact us for more information