Following discussions with the Development Group, a change will shortly be rolled out to HPA2 which aims to address the way (and when) Support Needs are captured during a homelessness application.
A new task will be added to HPA2 after the "Assessment of Circumstances" where the Support Needs from the People task can be amended and/or reviewed. The support needs will also still be accessible under the "People" task.
The new task contains a table of the people in the household and their support needs. By selecting one of the people in the household you can then see and amend their support needs.
The new task will guide officers to the requirement that the support needs need to be accessed and double-checked at the point when the assessment is being done, to ensure good data gathering and integrity across the case.
The helpsite has a guide on how to create new tasks, and this article also shows you where you can change the "sequence" of tasks to position them where you need in the workflow such as before the Assessment of Circumstances.
The article also sets out how to move this new task to be elsewhere, if you prefer, amend the sequence number to be higher than the task preceding the one you are editing, and lower than the task sequence number of the next task in the sequence.
You can see the helpsite guide by following this link.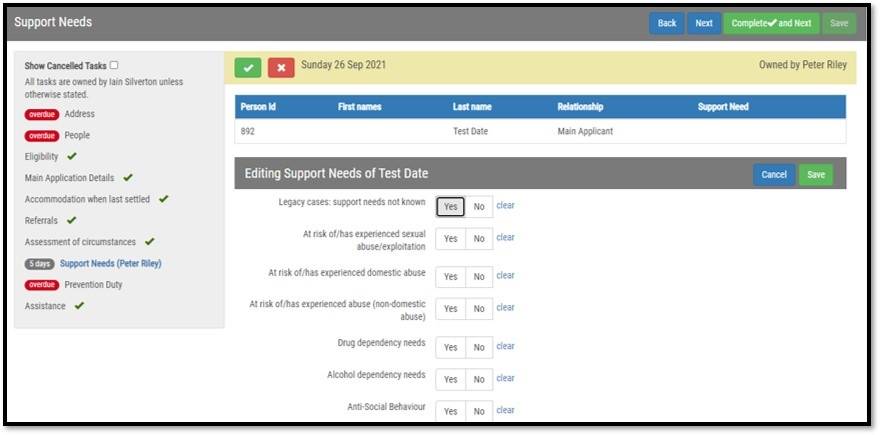 We are also moving some Client questions so that they become Case questions.
This is because we have recognised that these questions do change between cases and when an officer views an old case you will want to see what they were at the time so that you can compare them to the current case.
The questions we've changed from Client to Case are:
Reasons for eligibility for assistance
Address
Corr Address
Email
Telephone Day
Telephone Work
Mobile
Name on Letter
The same has been done for People.
For example, if the applicant was a single pregnant female on the first case and in the second case, she has now had the child – when you view the people on the first case it'll be the single female with a pregnancy due date, and on the second case it'll be two people (the female applicant and the child).
We are going to begin the uploading of the new Tasks and Questions on September 22, 2021. This will take place over the following two weeks so it does not interfere with the integrity of the system.